The 10 Best Glass Pipes for Smoking
There are countless reasons why glass bowls and pipes are the best way to enjoy cannabis. For me personally, the biggest reason I enjoy smoking out of a pipe is the control it gives me over how much THC I'm consuming; I pack a small bowl when I'm smoking by myself and a larger bowl when I'm sharing with friends. 
Plus, I'm a big fan of the intricate designs and beautiful colors used in blown glass. Glass pipes are made with the same techniques as larger glass artworks, making them truly unique smoking accessories. If you take good care of your glass pipe, and make sure to clean it regularly, it will last you for years.
Here are 10 of my absolute favorite glass pipes. As an added bonus, all of these glass pipes and bowls are handmade in the USA by some really talented glass artists!
Price: $25.00
Rating: ★★★★★ (5/5 Stars)
Artist: Summer Draic, Glass by Summer
Location: Santa Fe, New Mexico
If you are looking for a pipe with a ton of personality this one's for you! I love the uniqueness of the mushroom design and think it would make such a cute accessory sitting on top of my side table or dresser. When you smoke from this pipe, the heat of the smoke changes the color of the glass, making it just as cool as those color-changing t-shirts from the 90's.
Price: $29.50
Rating: ★★★★★ (5/5 Stars)
Artist: Daniel Allen, Vroshh Glass
Location: Seattle, Washington
If you're obsessed with outer space, you won't find a cooler bowl! The deep blues and swirling colors in this pipe remind me of the Milky Way. The artist uses pure silver flakes to create the illusion of stars along the length of the piece. And, if you take a peek at the bottom, you'll see what looks like a black hole.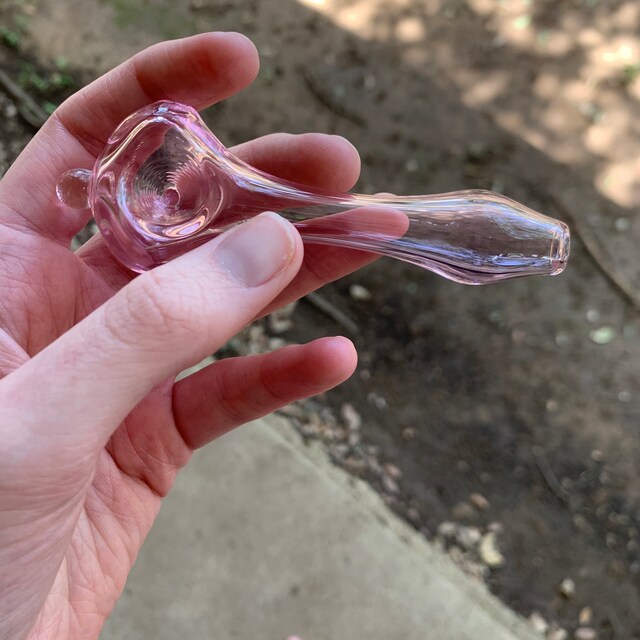 Price: $14.99
Rating: ★★★★★ (5/5 Stars)
Artist: Blake Heinz, Ashes And Glasswerks
Location: Belfair, Washington
I bought this pipe a few weeks back and am really happy with my purchase! I moved and forgot to update my shipping address on Etsy (rookie mistake). I realized this right away and reached out to Blake, the store's owner. He was really responsive and happy to update my mailing address. My pipe arrived at my door in under a week and is now displayed proudly on top of our bar cart.
At the moment, I'm really into minimalist pipes; they go perfectly with the mid-mod style of my house and closet. But, what I like most about this design is how small and portable it is. I can slip it into my pocket or bag and easily take my pipe with me camping, skiing, and hiking.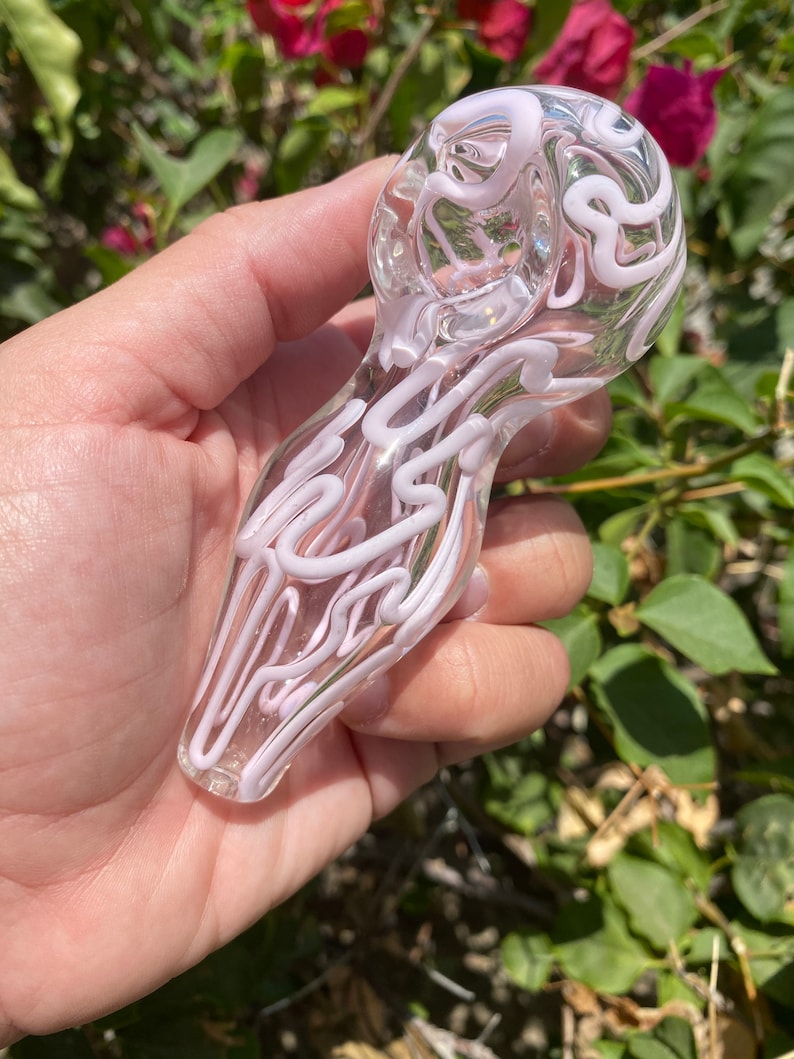 Price: $18.99
Rating: ★★★★★ (5/5 Stars)
Artist: Ashley S., Riverside Views
Location: Riverside, California
I just love the combination of transparent glass and free-form, pink squiggles that decorate this pipe. It reminds me of the old, neon signs that were used to decorate the front of businesses. If you've ever taken a drive down Route 66 in Flagstaff, AZ then you'll know exactly what I'm talking about.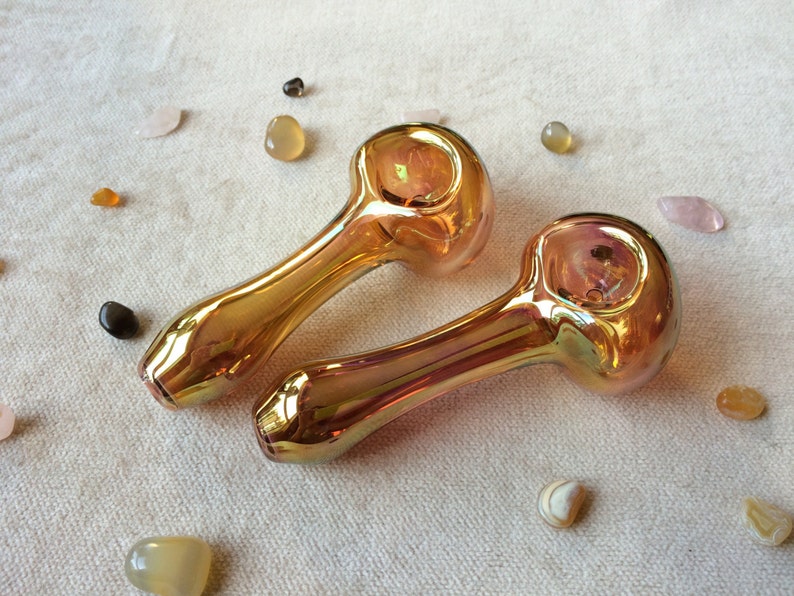 Price: $22.00
Rating: ★★★★★ (5/5 Stars)
Artist: A family of glassblowers, Oregon Coast Glass
Location: Riverside, Oregon
This pipe will pair perfectly with all of your other rose gold accessories—I-phone, Apple Watch, headphones, you name it. It's iridescent design is created by fuming the glass with pure gold and silver. As an added bonus, the color of the pipe will deepen as it ages, accentuating it's natural pink and gold tones.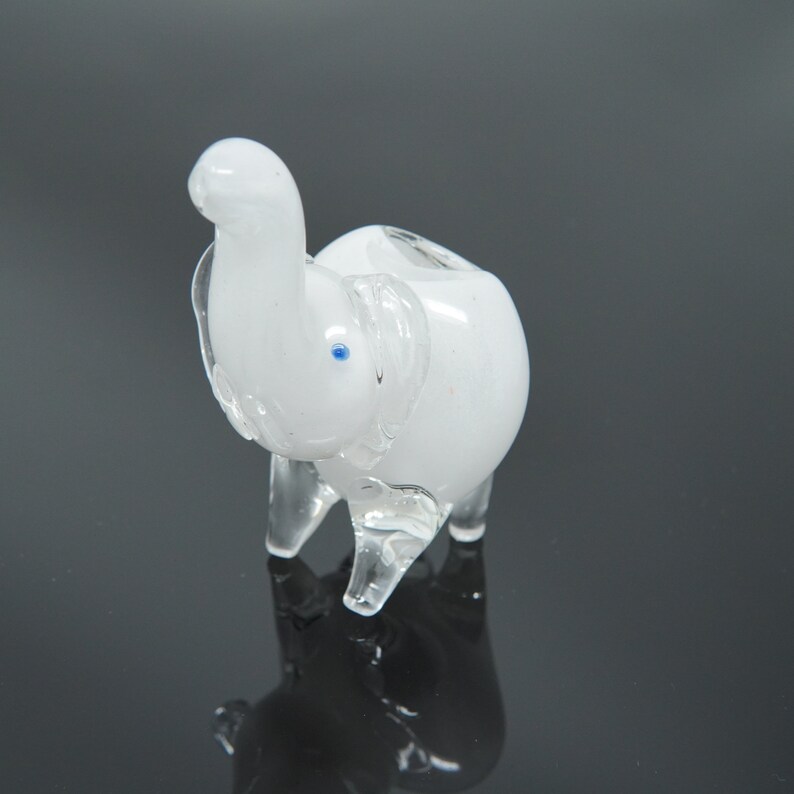 Price: $11.99
Rating: ★★★★★ (5/5 Stars)
Artist: Project Alpha
Location: Glendora, California
One of my best friends owns an elephant pipe and it's arguably one of her favorite belongings. It's probably because these pipes are super quirky and fun to smoke out of. Unlike traditional pipes, smoke travels up through the curved trunk of the elephant. Showcase this cute lil' pipe on your bedside table, bar cart or dresser. Your guests might confuse it for a colorful, glass figurine as opposed to a pipe!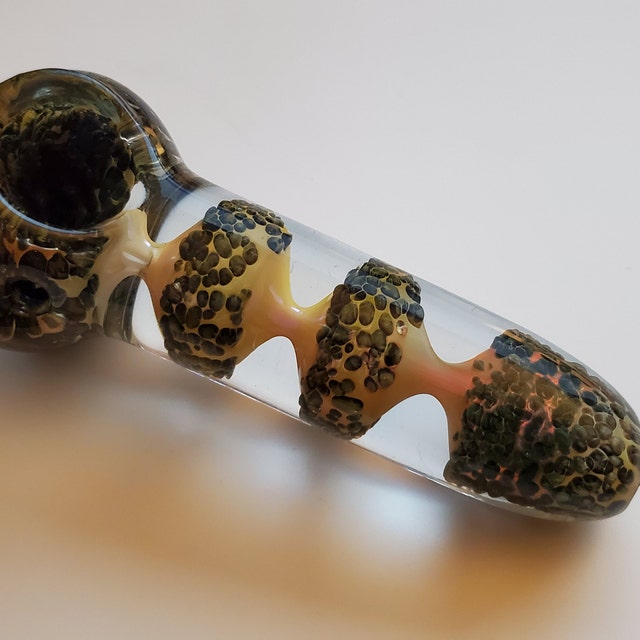 Price: $18.00
Rating: ★★★★★ (5/5 Stars)
Artist: Glasspipe MetaFunky
Location: Los Angeles, California
The intricate bands that decorate this pipe make me immediately think of mushrooms. I love how the design carries up the handle, making this piece truly one of a kind.
This pipe is blown using German Borosilicate Glass. This style of glass is able to withstand extreme temperatures; for example, you can go from cleaning this pipe in a pot of boiling water to placing it in your freezer without risk of it cracking. Talk about being beautiful and durable!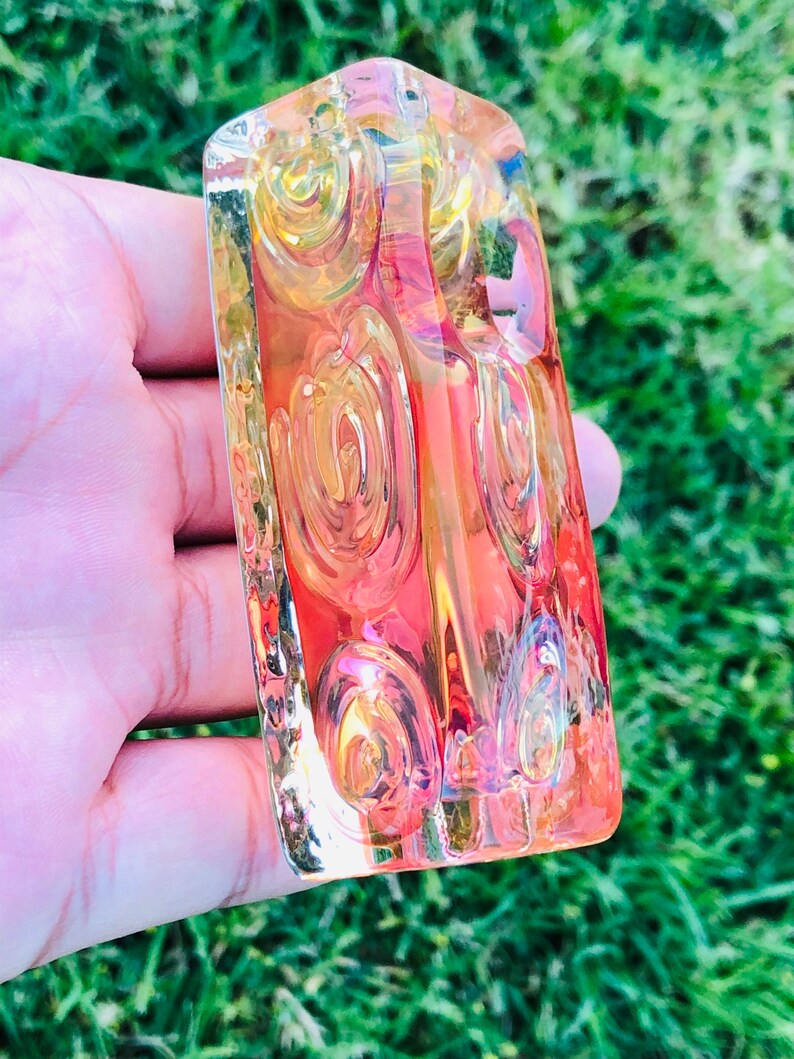 Price: $22.99
Rating: ★★★★★ (5/5 Stars)
Artist: Jennifer Gold, Glass Girl Shop
Location: Bell Gardens, California
What I love most about this pipe is it's rectangular design. Sit it on any surface and you don't have to worry about it rolling away or falling on the floor. While the style of this pipe is very modern, it's circular embellishments and sparkling color give it some flair.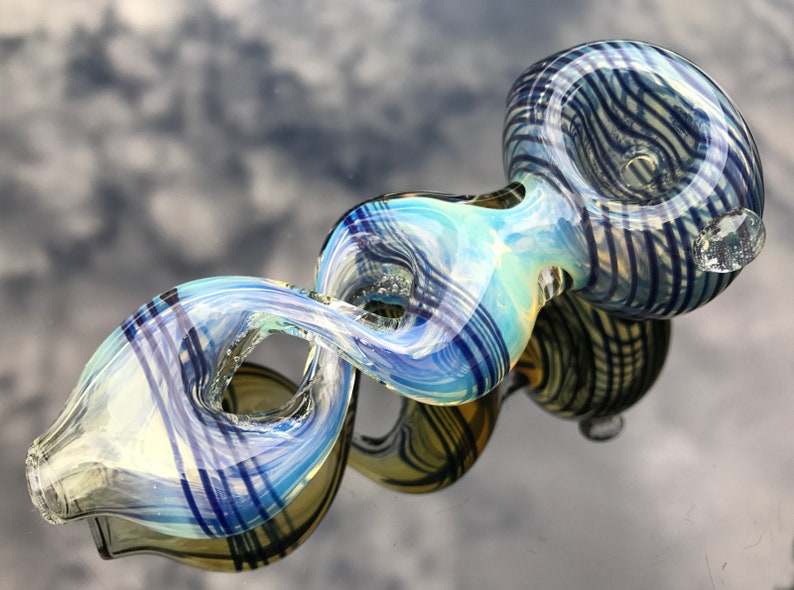 Price: $16.99
Rating: ★★★★★ (5/5 Stars)
Artist: Fat Buddha Glass
Location: Gainesville, Virginia
The interwoven loops on this pipe are not just beautiful but allow for plenty of airflow. I really enjoy the decorative line work on this piece combined with its iridescent coloring. The glass itself is fumed with pure silver to give it its reflective finish. This bowl changes color over time, giving it character the more you use it!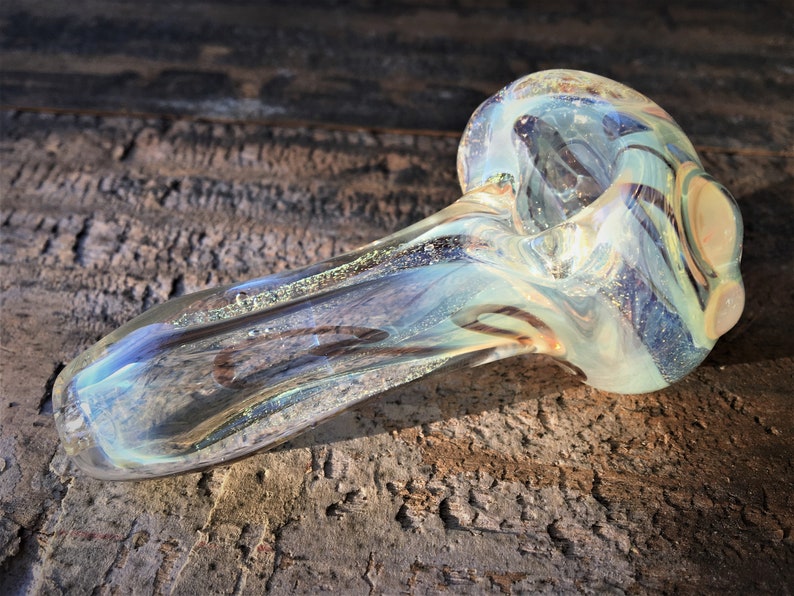 Price: $42.00
Rating: ★★★★★ (5/5 Stars)
Artist: Sarita, Daisy and Diesel
Location: Ashville, North Carolina
While this pipe is slightly more expensive, the craftsmanship and materials justify it's higher price. The pipe is fumed with real silver and gold giving it a shimmering appearance.
The pipe features long strips of Dichroic Glass that run from the bowl of the pipe up to it's mouthpiece. What makes Dichromic Glass special is its unique coloring. When you look at the glass, it appears to be two different colors at the same time, similar to the rainbows you see in a soap bubble or the swirling colors of oil floating on water.